See original article on Bloomberg
(Bloomberg) — Toronto developers had one of their busiest months on record in February in another sign the condo market is alive and well in Canada's biggest real estate market, even amid a broader slowdown.
Builders began work on 5,677 units during the month, most of them multiple-unit projects like condos, the Canada Mortgage and Housing Corp. said Thursday in Ottawa. That's the strongest February, and the sixth-highest figure for any month, in records back to 1948.
The bulk of Toronto condo units are typically sold before construction begins, so the latest surge may simply reflect past sales. But the report also suggests developers are betting the condo market will be less affected by headwinds including higher borrowing costs and tighter mortgage qualification rules that are currently hitting Toronto housing.
"It's probably lagging a little bit. Historically you tend to see supply follow demand," said Robert Kavcic, an economist at Bank of Montreal. "The other nuance here is that a lot of the policy changes we've seen over the last year, they really had a bigger impact on the higher end of the single detached housing market."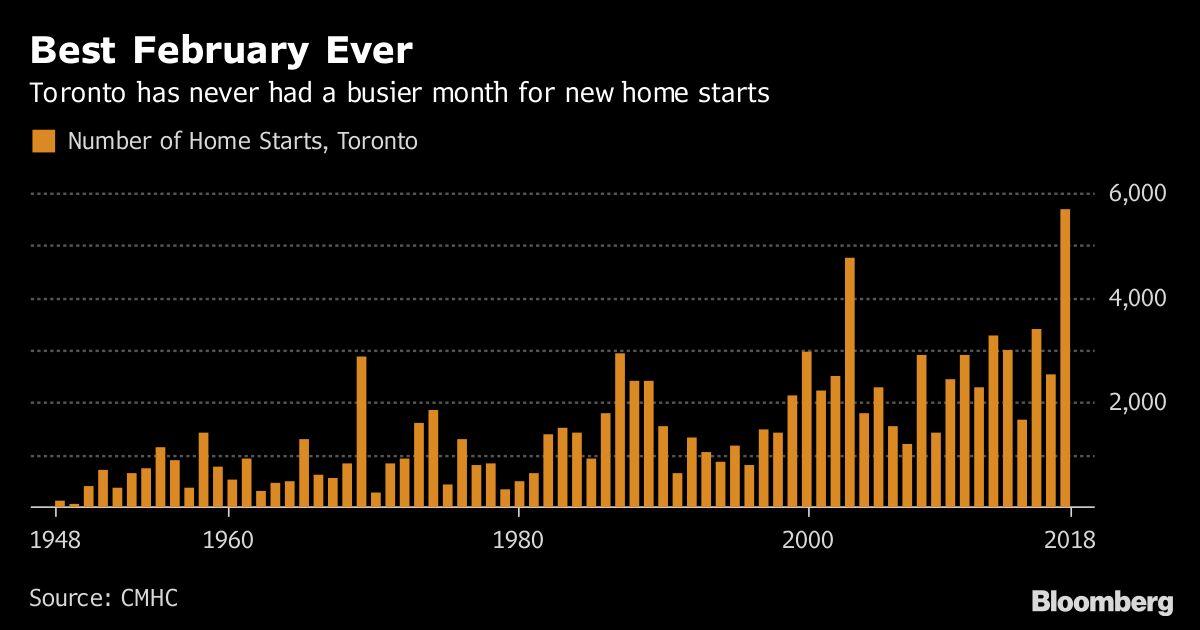 Adjusting for seasonality — construction tends to slow during winter months in Canada — February was the strongest month on record in data back to 1990.
Construction is picking up in Toronto just as sales begin to slide, after various levels of government and regulators took measures to curb surging prices. Most recently, tougher mortgage guidelines came into play on Jan. 1, making it harder for prospective buyers to qualify for loans. Many buyers rushed into the market in December to get ahead of the rules.
Transactions fell 35 percent in February from a year earlier to 5,175 units, according to data released Tuesday by the Toronto Real Estate Board. It was the weakest February for sales since 2009.
Prices are holding up better, particularly in the condo segment, which has gained consistently over the past year and is up 20 percent since last February. Prices for single-detached homes have fallen 12 percent since reaching a record last year.
Fundamentals that favor condos seem to be at work, as rising immigration levels drive demand. And since the net effect of the new regulations is to limit the size of mortgage credit, the tougher rules may be buoying the less-expensive condo market.
"Almost all of the new activity in February at least has been in the mid-range, condo sector," Kavcic said. "The underlying demographic in labor market and housing demand trends in that segment of the market are still strong."